About Maria Conti Jewelry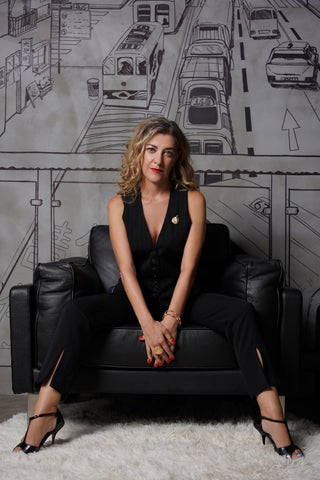 Designer Presentation
Originally from Saronno, near Milano (Italy) Maria studied Chinese language and culture, graduating with the highest marks in her Major, Chinese Modern History at the University of Venice Ca' Foscari.
At the end of the 90's she moved to China, and since then she has been in the fashion industry, acquiring a great experience in the manufacturing of fashion accessories for many famous brands.
In 2013 when she started her first line of jewelry Bianca Venere she was inspired by the Venus of Botticelli, Italian painter of the Renaissance, which was shown for the first time in Hong Kong.
The Venus of Botticelli represents the beauty of a goddess and at the same time a human woman. And this what Maria sees in every woman: uniqueness, femininity and timeless evolving beauty.
In 2018, having acquired more knowledge in the jewelry field, she is now launching Maria Conti Jewelry, a more refined collection with a distinct and deep personal touch.
Brand Presentation
Maria Conti Jewelry is crafted combining the use of the traditional skills of the goldsmiths together with the new jewels making technologies. Tradition and modernity meet together creating unique pieces.
Maria Conti collection is designed with volume and 3D effect. This complexity makes the jewelry more complete and perfect. When it is possible, her jewels also have a moving structure, following the flexuosity of the body.
Thought for the modern woman, each piece of jewelry is very light and comfortable to wear.
Passion for details. Unique and unforgettable jewelry.
Silver 925. Crafted in Italy.