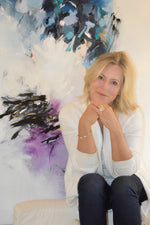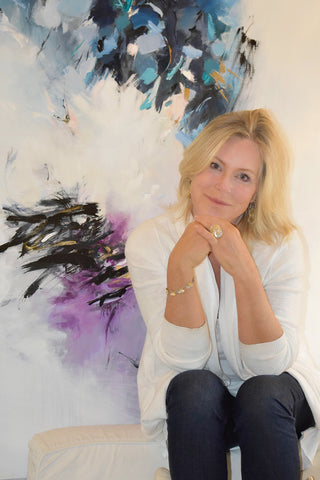 "My art aims at drawing you in this suspended state where subtle life flow creates beauty and healing. A place our soul yearns for… the one that already resides deep inside of us."
 A Canadian artist, she currently works from her studio in Montreal. Recipient of the silver medal in a juried exhibit which took place at Roma Galleria La Pigna in Vatican, Rome for her abstract art, she is a five-time recipient of the American Arts Awards, an international art competition juried by 25 galleries and museums in the United States. Her artwork was selected for The Healing Power of ART, curated by Manhattan Arts Int'l and she won an Award of Excellence. The Artist's Magazine gave her an Honorable Mention Award in its July 2016 issue. She has exhibited at the juried Red Dot Fair held during the Art Basel Miami Art Week 2016 and curated shows held in Canada, United States and Europe.
 Chantal creates light-filled abstract paintings that are powerful, life-affirming and reward long lasting viewing for their restorative qualities.  She achieves an ethereal atmosphere through juxtaposition of soft strokes of muted colors with energetic vibrant hues which she hopes will allow the viewer to rest in this suspended state.
Wearing Maria Conti Jewelry further expresses her search for beauty in the ephereal and juxtaposition of material. " I strongly believe that true beauty can be found in the simplest of elements. Not only is MariaContiJewelry unique in design and reflect the best of italian craftsmanship in the use of gold and silver but their lightness and pivotal forms make them incredibly versatile and ideal for the busy modern woman. From the day studio to formal art exhibitions, they become an extension of my art, they fit my life and search for beauty in the ephrereal and suspended states.